2016 RELEASES COMING SOON!
Pre-order your limited Grand Seiko, Prospex Master, and Seiko Astron timepieces today!
(Press release from Basel)






Grand Seiko
*

Black Ceramic Spring drive GMT

SBGE037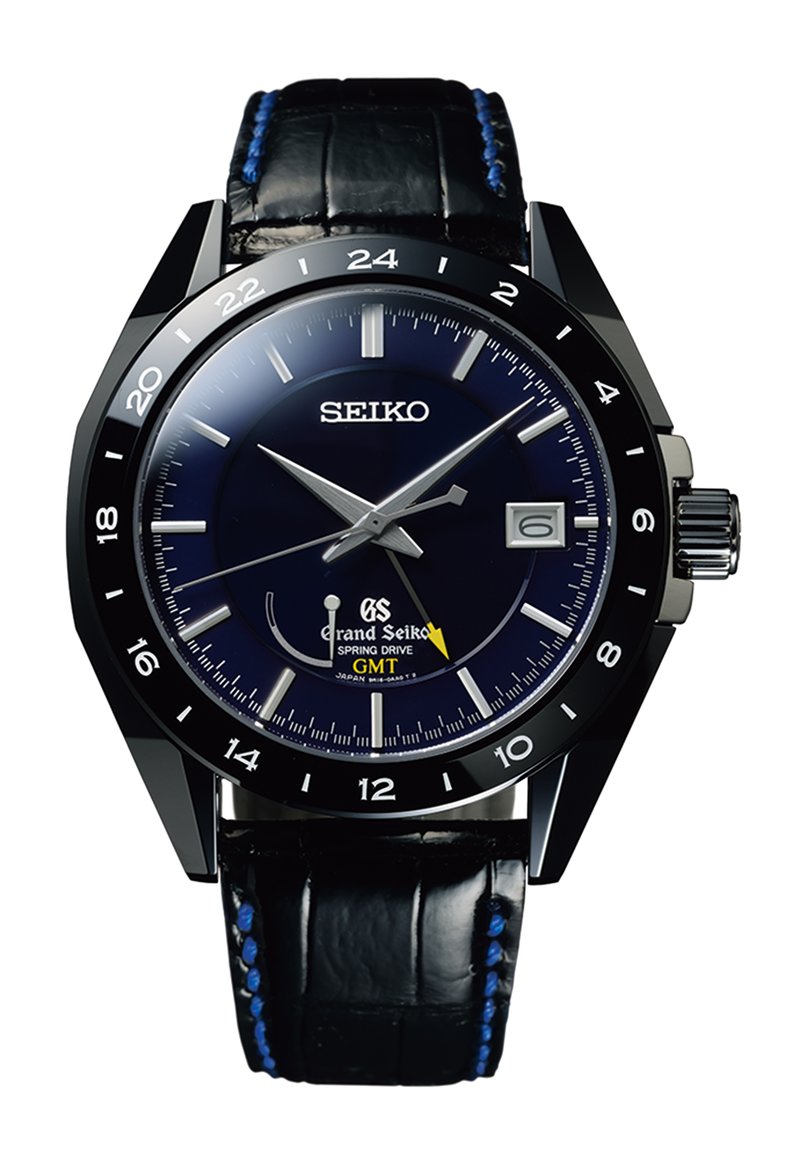 SBGE039


*
Black Ceramic Spring Drive Chronograph GMT

SBGC015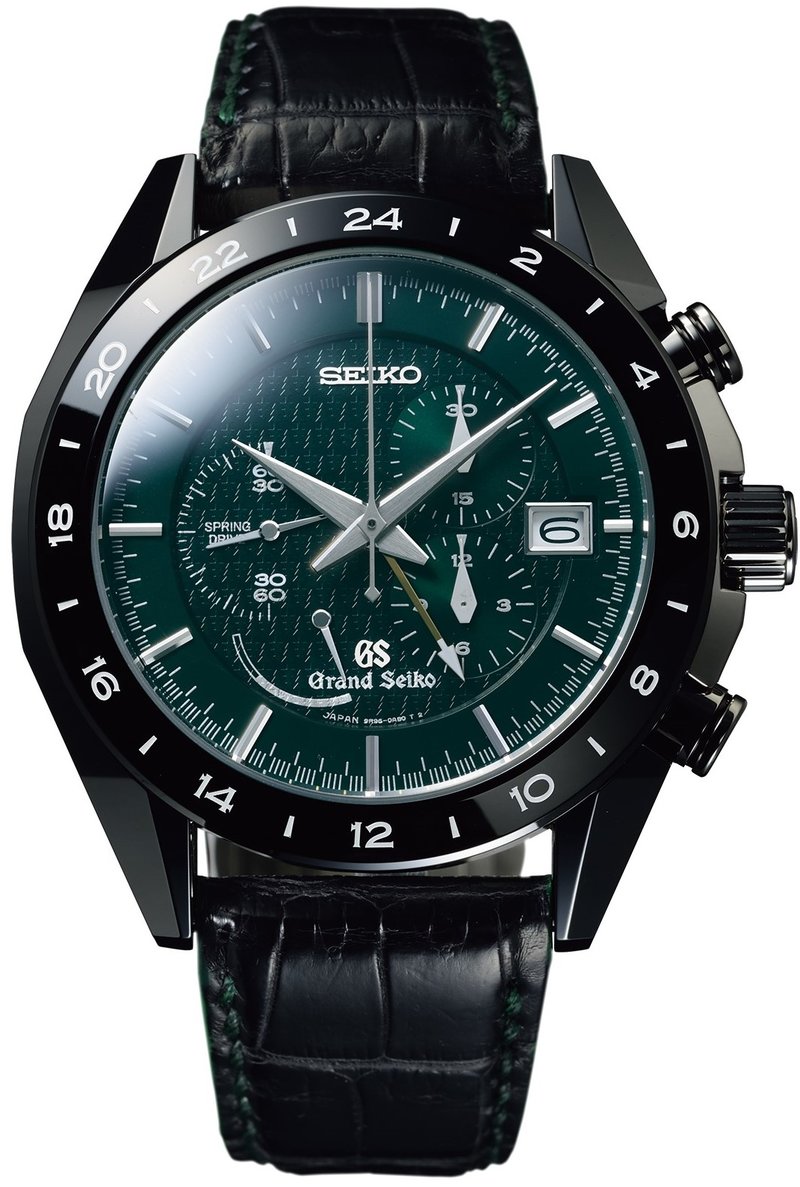 SBGC017


**All models listed above are

limited

to

500 pieces

, with the exception of SBGC017 being limited to

600 pieces

!
*
Automatic Hi-beat GMT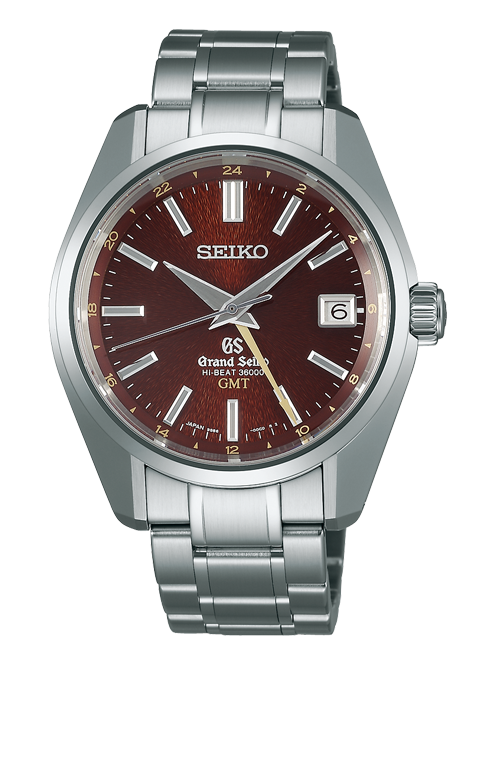 SBGJ021 (

limited edition

of 500 pieces
)
-Case diameter: 40.0mm
-Deep red sunburst texture dial (same texture dial as the SBGJ005 that was released in 2014!)
-Contrasting yellow GMT hand
-Rotor surface is anodized to a beautiful gradient of yellow, orange, blue, purple (color inspired by the sunrise at Mt. Iwate)


















Astron
"Sometimes, less is more." Seiko is introducing the new caliber 8X22. With a slimmer case and simpler dial layout than its predecessors, the consumer can view the local time much easier. With just a touch of a button, the watch adjusts to the local time in every timezone of the world.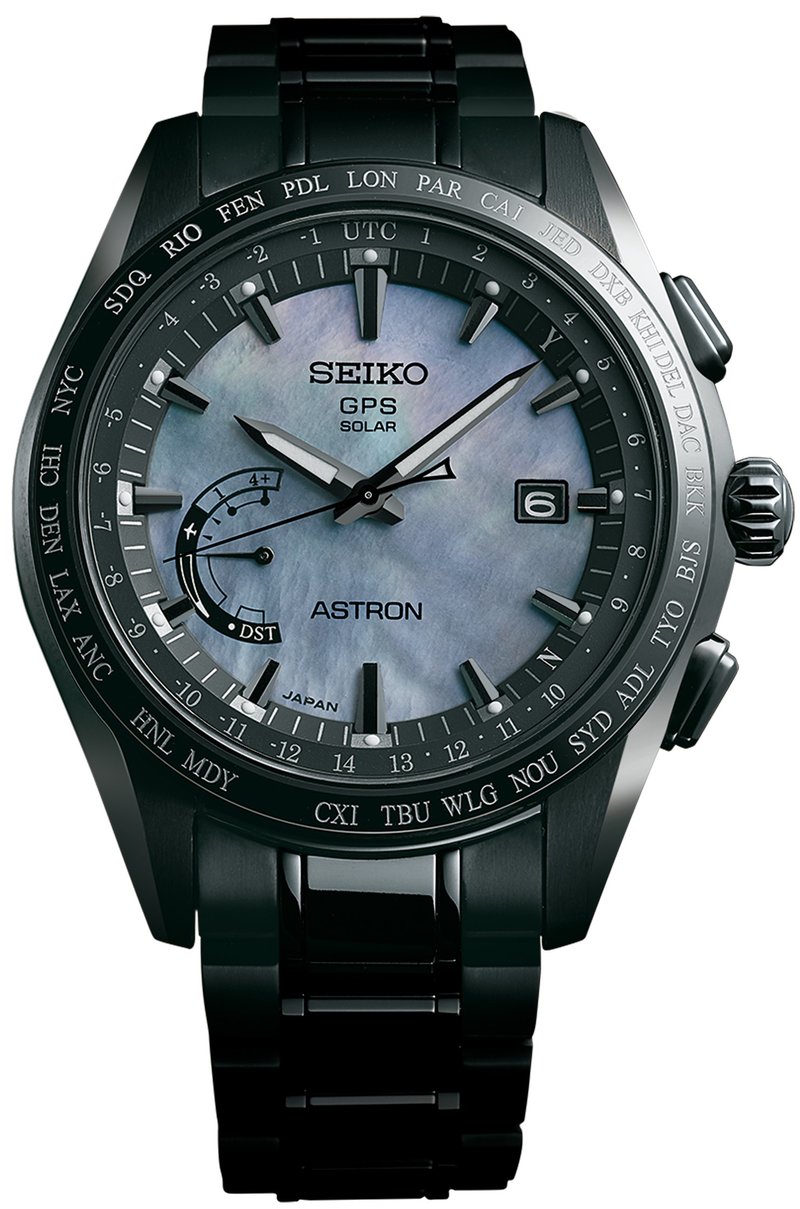 SSE091

(

Limited edition

of 3,500 pieces)
-Case diamater: 44.8mm
-Colored mother of pearl dial
-Titanium case with super-hard black coating
-Ceramic bezel
-Ceramic and titanium bracelet with super-hard black coating


-Crocodile strap included!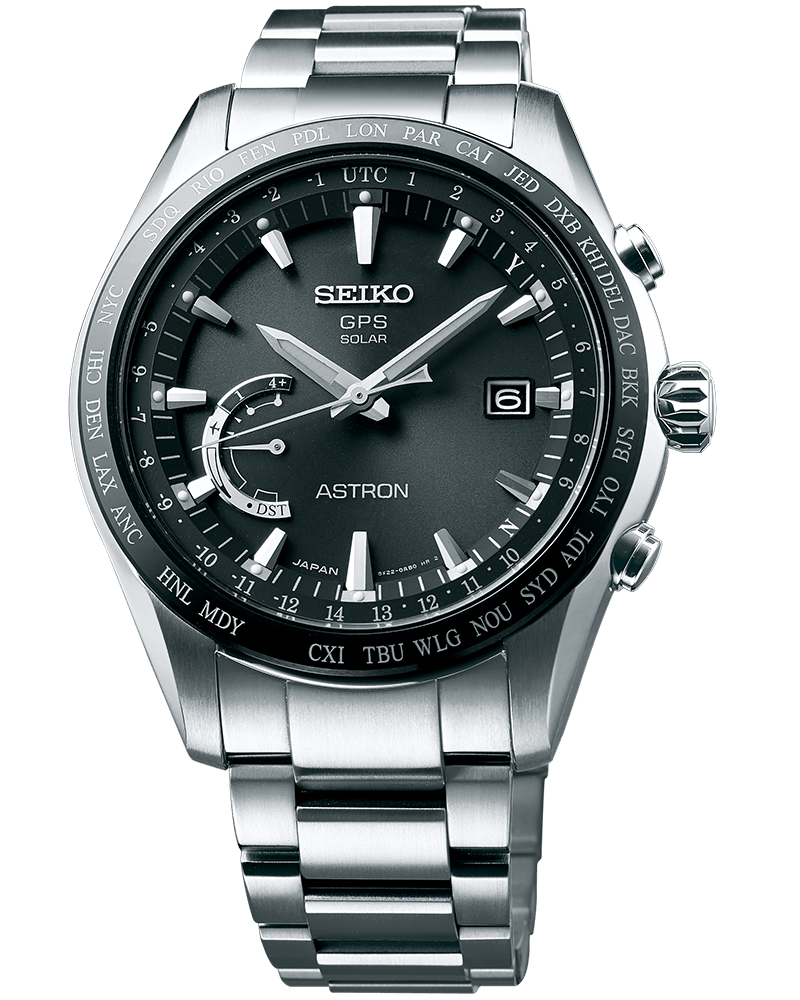 SSE085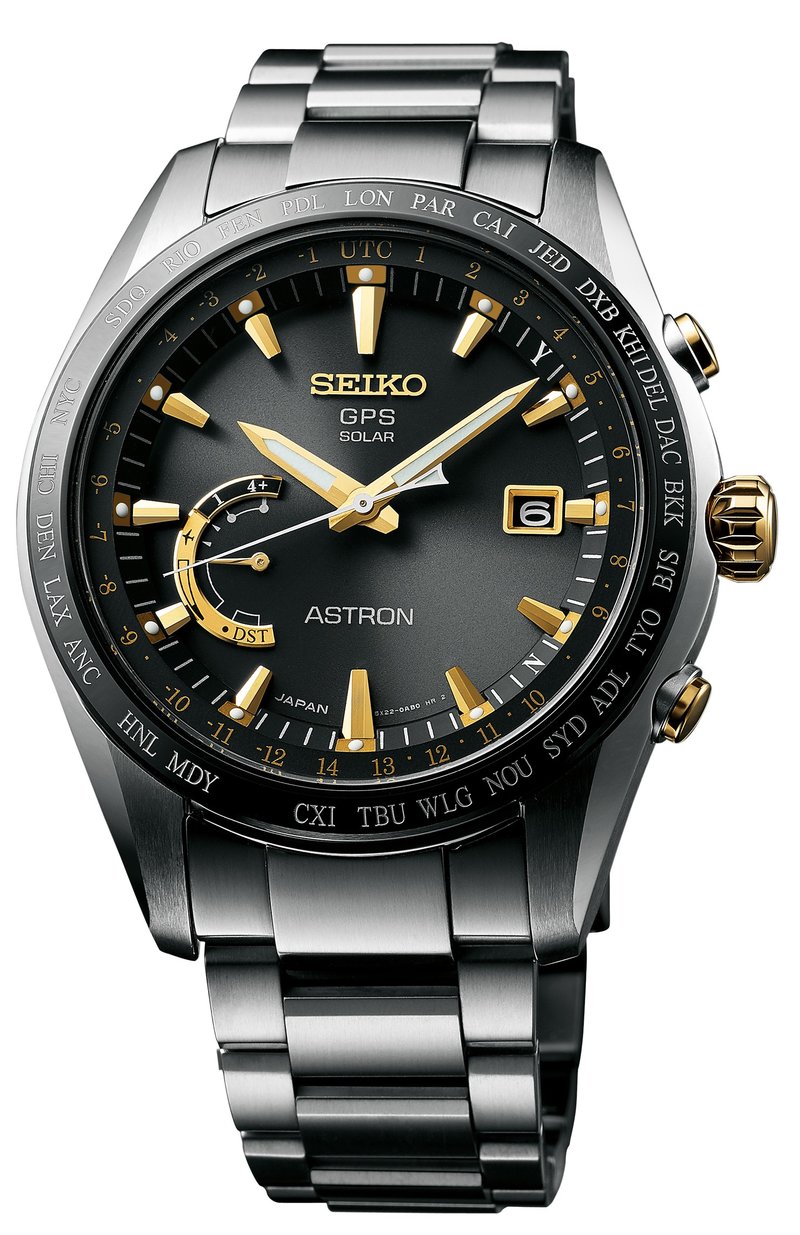 SSE087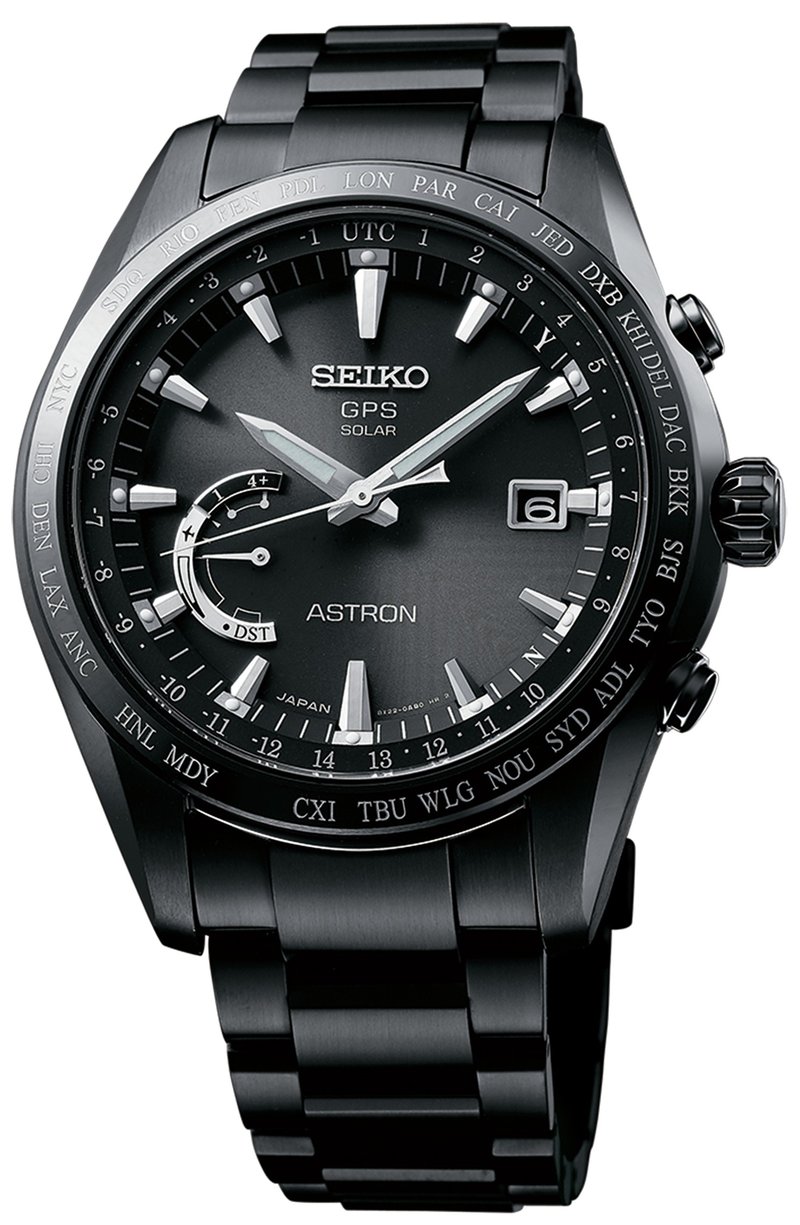 SSE089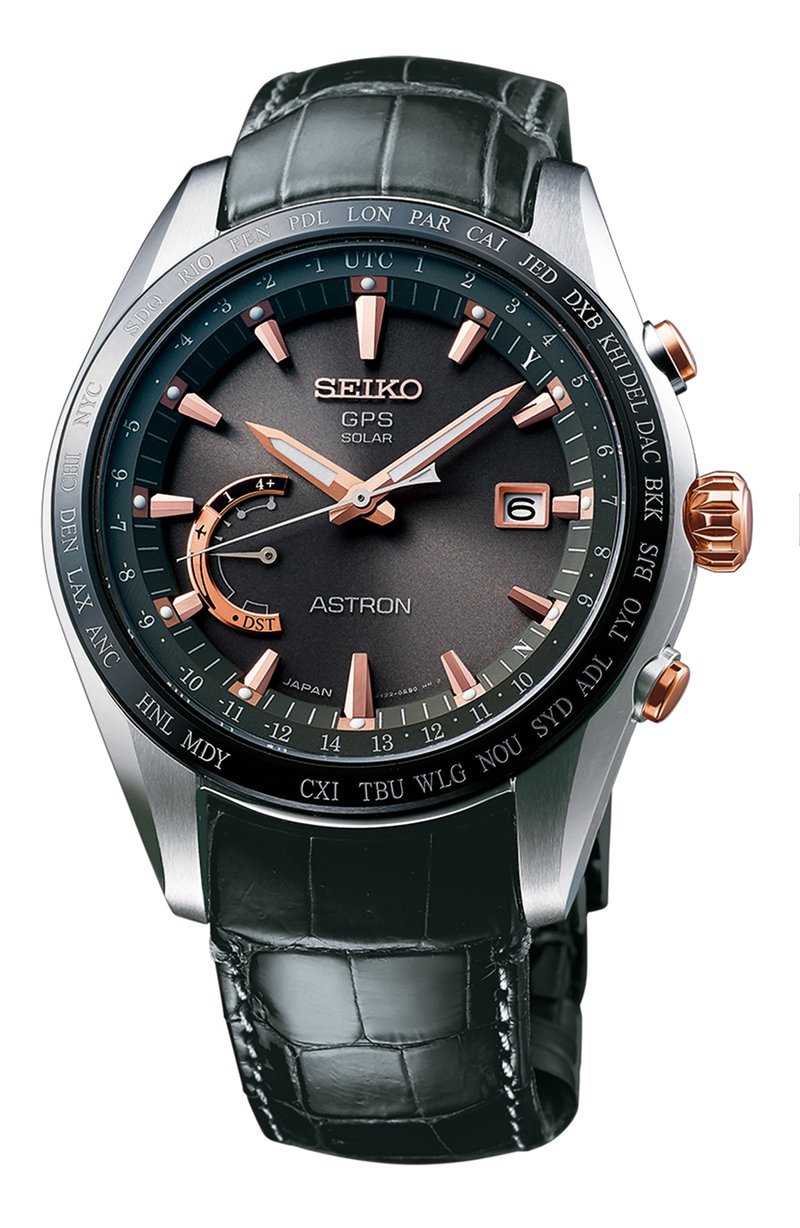 SSE095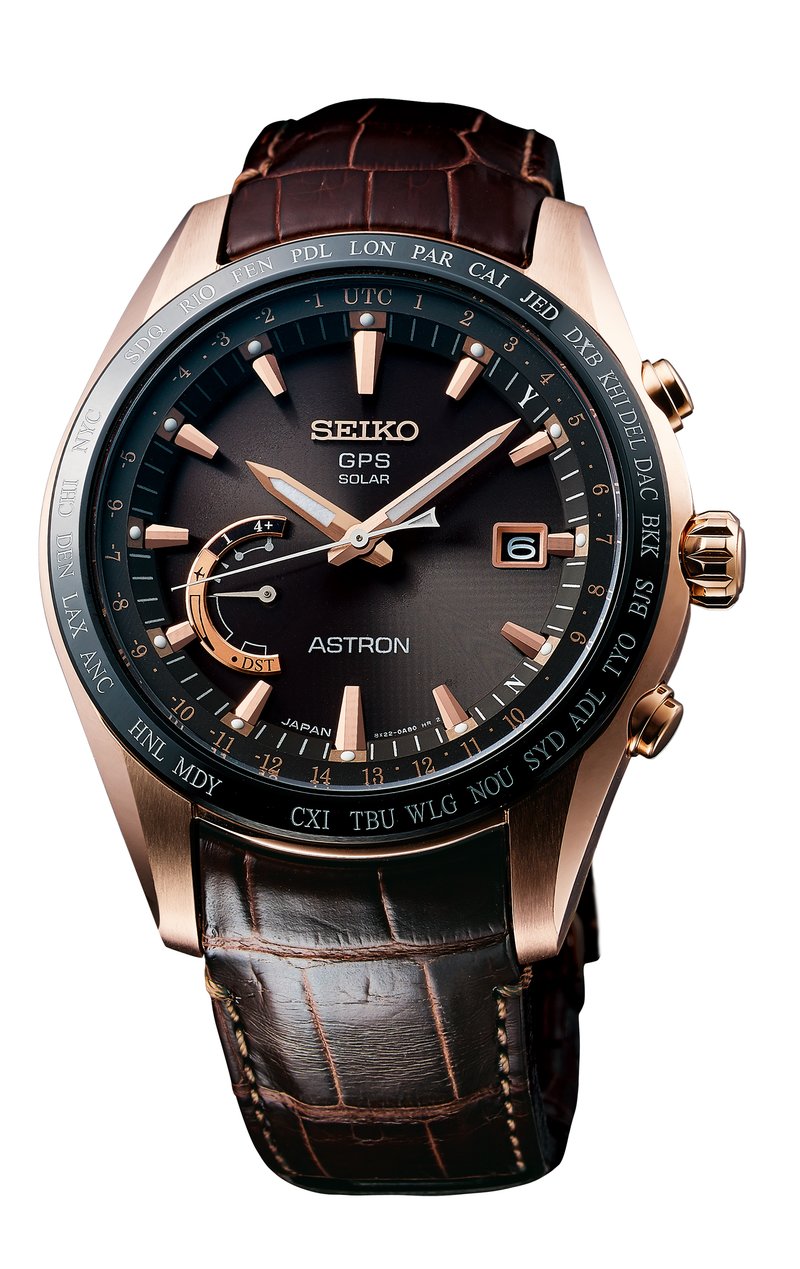 SSE096

**Please call or email for availability and pricing!


Phone number

: (650) 367-1251


Email

: GTJewelers1990@gmail.com
---
2015 Grand Seiko 55th Anniversary
**

ALL

55th Anniversary timepieces are

limited edition

, so purchase one before they are all sold out!
Spring Drive Chronograph GMT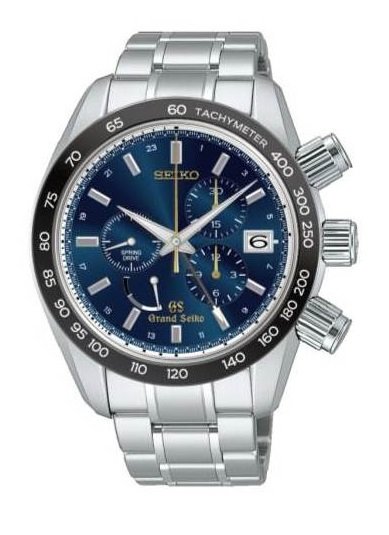 SBGC013
High Beat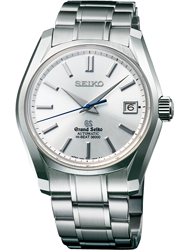 SBGH037
SBGR097
(Limited edition
-- 500 pieces)
In addition to the new 9S61 caliber used for this watch model, Grand Seiko "debuted" a "new" case size.
Measuring at 42mm, this is one of Grand Seiko's largest case sizes (with the exception of the SBGE001,
diver's and chronograph models).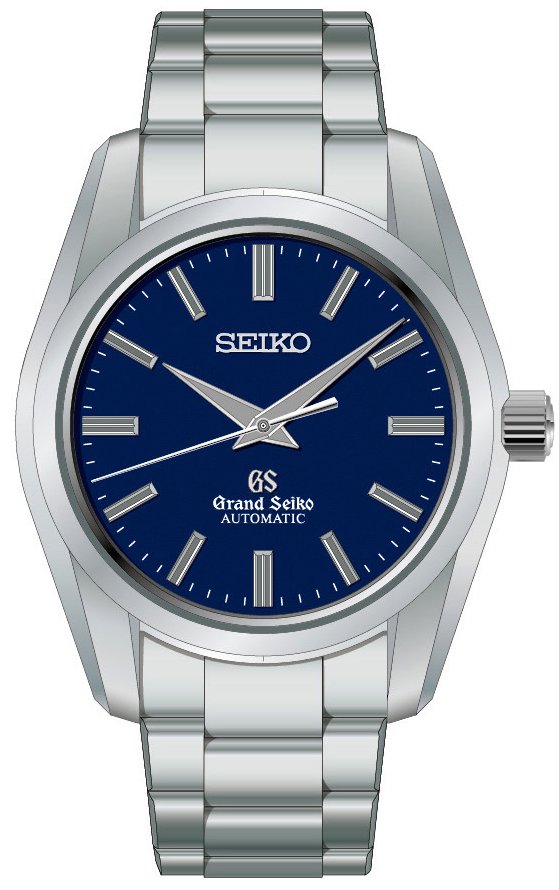 -Case diameter: 42 mm
-Dark blue dial with repeating GS "watermark" logo
-Stainless steel case and bracelet

-Exhibition/see-through case back



---
Grand Seiko
For over fifty years, Grand Seiko's team has strived in creating the "ideal" watch. Despite the ever-changing watch trends, Grand Seiko has adhered to a traditional elegant design and exacting ideal. Grand Seiko's attention to details and continuous advances in watchmaking technology have allowed their team to continue creating flawless watches with ever-increasing accuracy. 100% handmade in Japan.


Spring drive caliber 9R series
With its glide motion hands, Spring Drive is the only watch in the world to reflect the true continuous nature of time.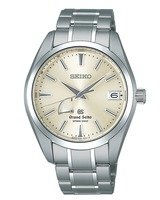 SBGA001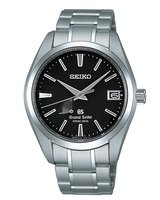 SBGA003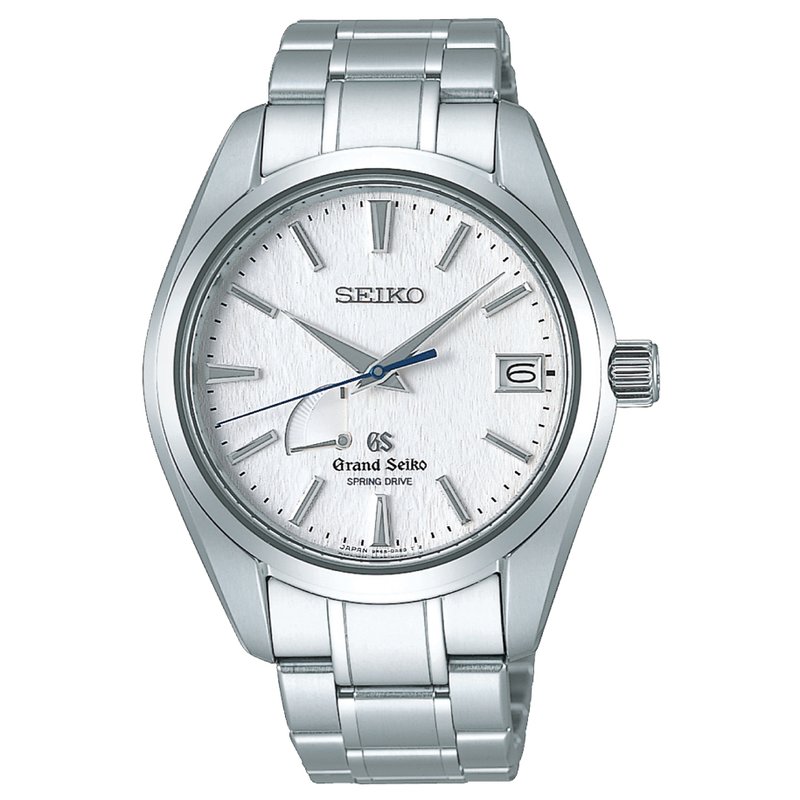 SBGA011 (snowflake)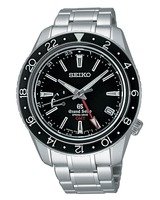 SBGE001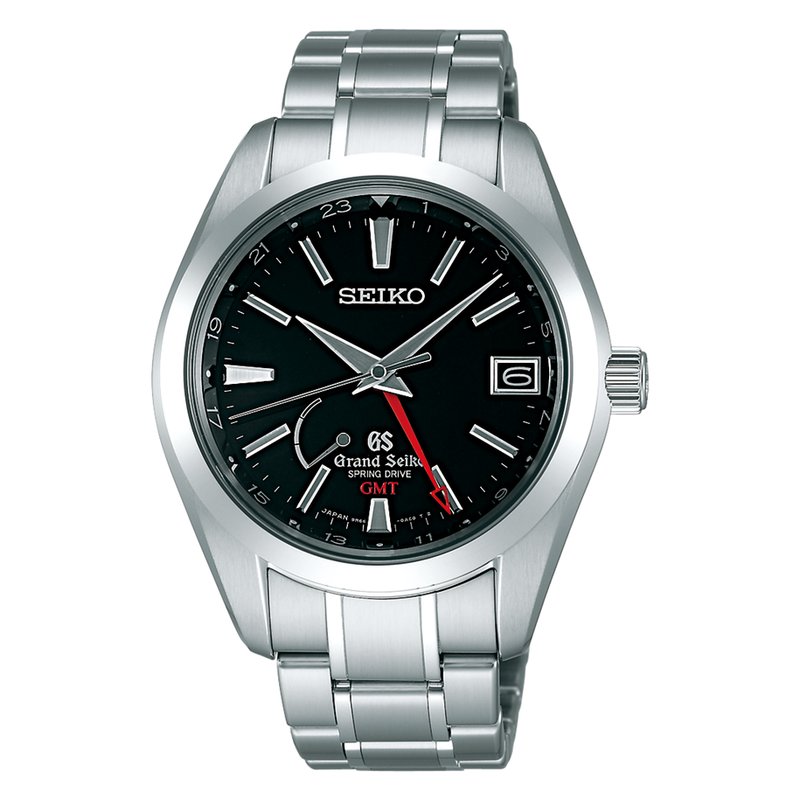 SBGE011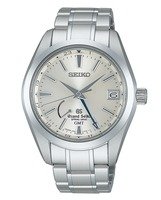 SBGE005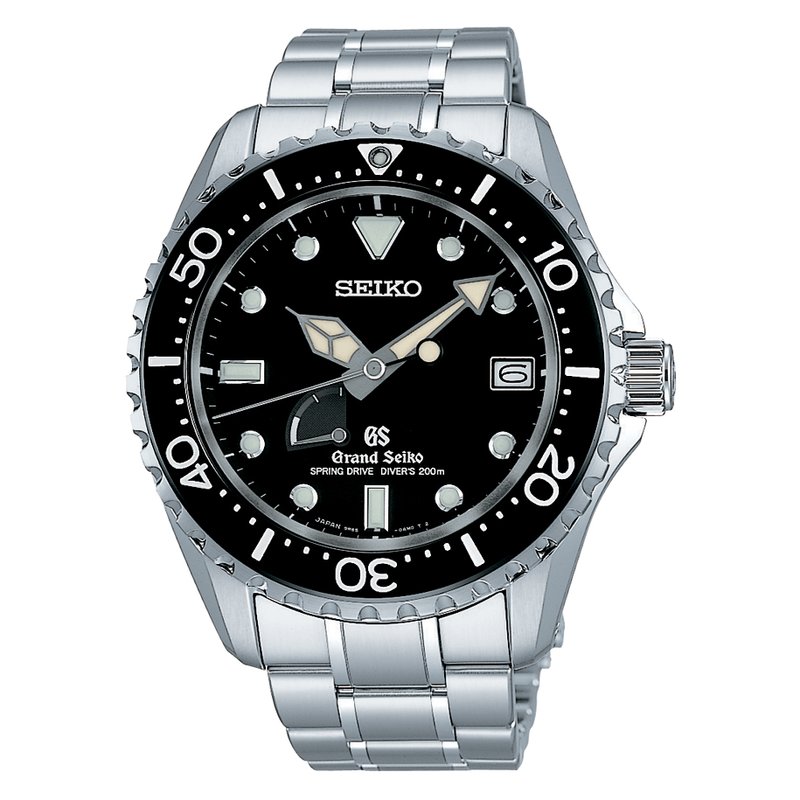 SBGA031 (Titanium)/SBGA029 (Steel)
Spring drive chronograph caliber 9R86 series
The Grand Seiko Spring Drive Chronograph. The only luxury chronograph in the world to measure elapsed time exactly, not merely to the nearest fraction of a second.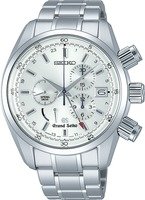 SBGC001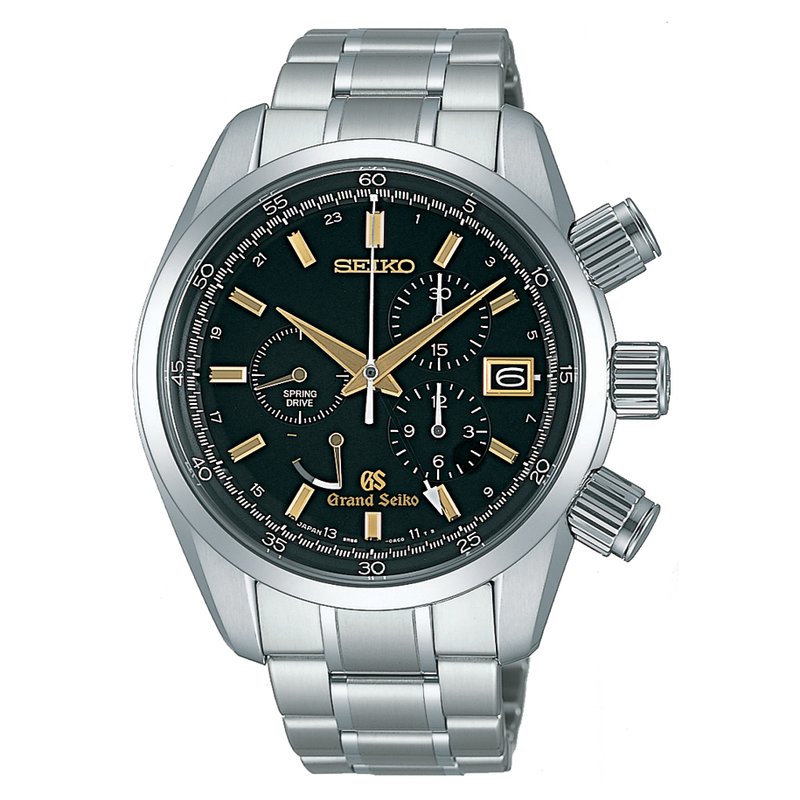 SBGC005
Mechanical Caliber 9S Series
Since 1895 when SEIKO built its first mechanical pocket watch, the history of SEIKO's mechanical watchmaking is a story of ever-increasing accuracy and reliability.
The Grand Seiko 9S series continues this tradition and is the best mechanical watch SEIKO has ever built.


Automatic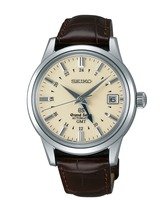 SBGM021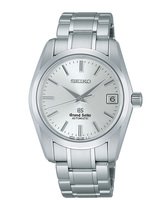 SBGR051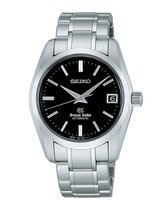 SBGR053
Automatic 9S61 Caliber (no date)
Grand Seiko is debuting a new caliber--the 9S61. The 9S61 caliber is essentially the same as the 9S65 caliber, sans the date window. The result? A much cleaner looking watch that is classy enough to dress up and simple enough to dress down.
STGR001
Grand Seiko is reintroducing a mechanical caliber to their ladies collection. In the most recent years,
Grand Seiko watches intended for women were only available with the high accuracy quartz movement.
However, starting this year
, women will be able to pre-order and/or purchase Grand Seiko watches powered
by the same mechanical 9S61 caliber used in men's watches.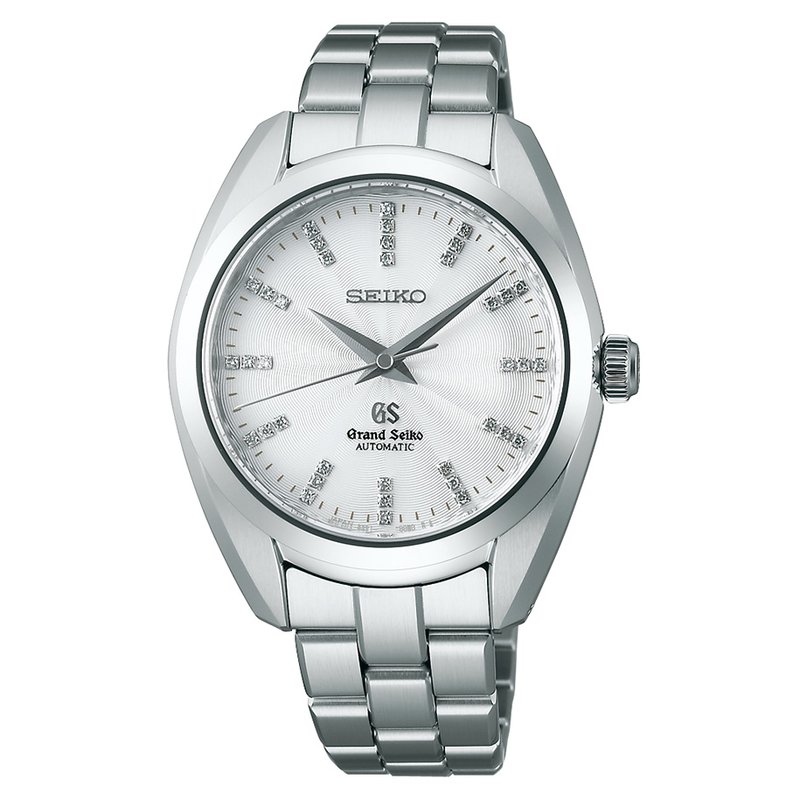 -Case diameter: 34.8mm
-37 diamonds on dial
-White dial with subtle floral/wavy guilloche pattern
-Stainless steel case and bracelet







Automatic--Hi-beat 36,000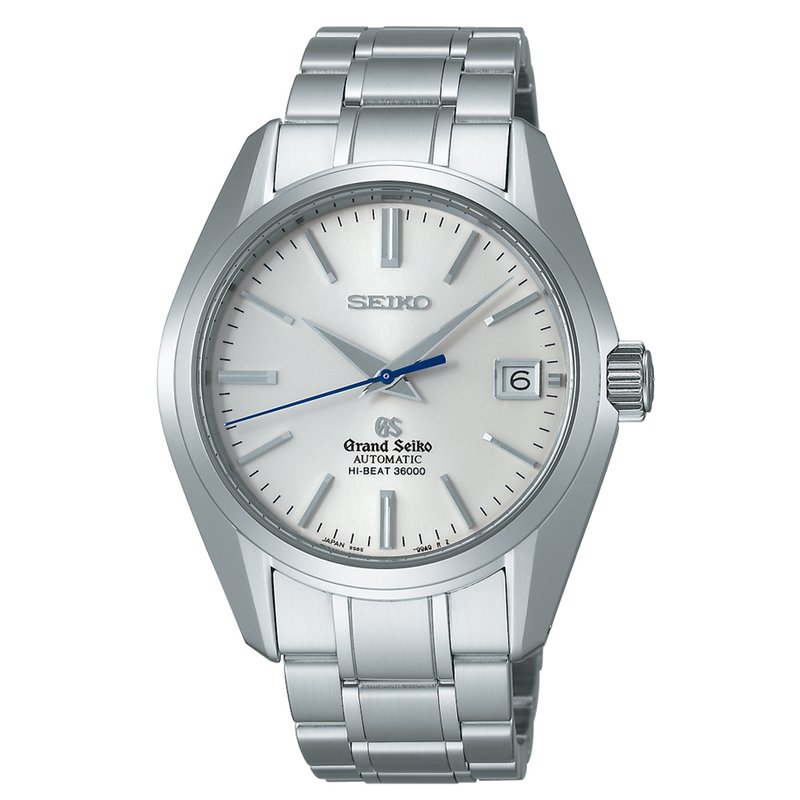 SBGH001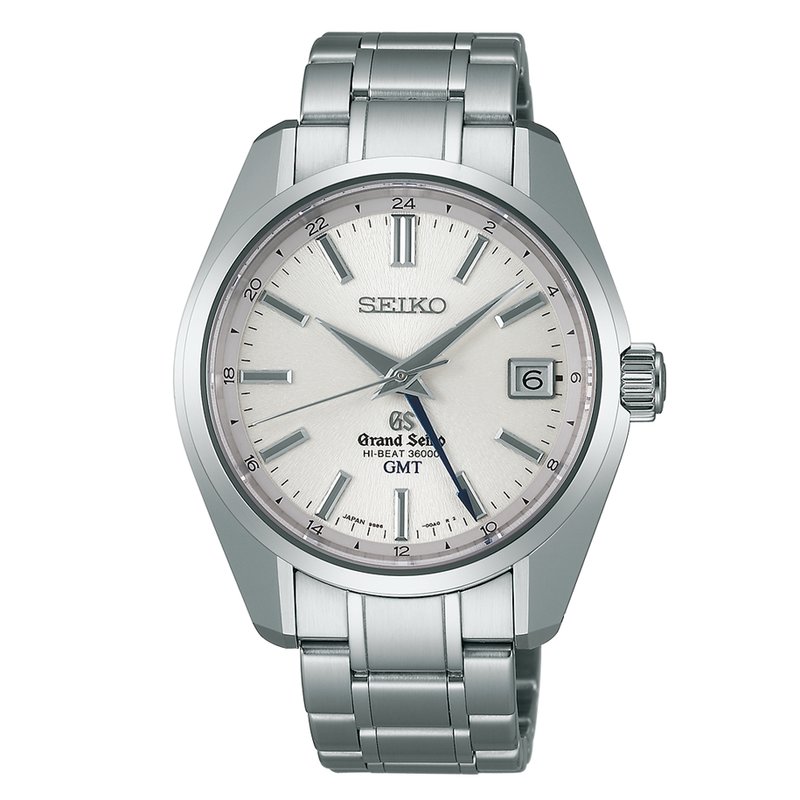 SBGJ001





Quartz Caliber 9F Series
Since the introduction of the world's first quartz watch in 1969, SEIKO has constantly led the world in quartz innovation, with many world-first creations including the first quartz chronograph in 1983 and SEIKO Kinetic in 1988.
Caliber 9F pushes back the limits of quartz once more, and it might just be the best quartz watch ever built!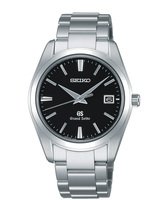 SBGX061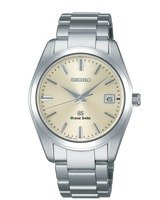 SBGX063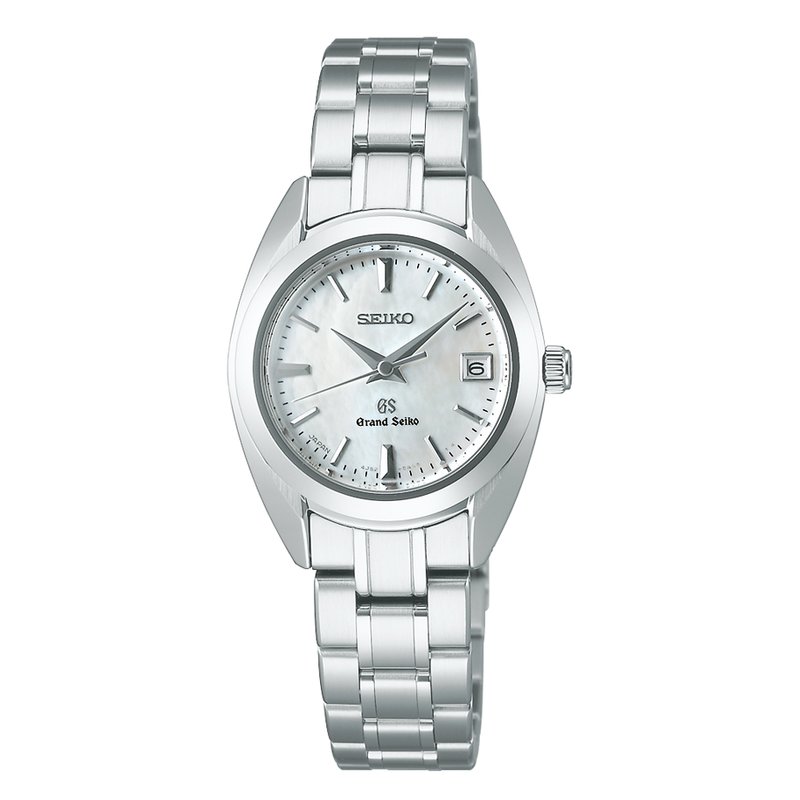 STGF075
--------------------------------------------------------------------------------------------------------------------------
Seiko Astron
The First Astron Revolution: Quartz
The history of Seiko is the story of innovation. Thanks to a continuous stream of industry-leading innovations over the decades, Seiko established and has maintained, its position as a world leader in the technology of time.
On December 25, 1969, Seiko marketed the world's first quartz watch, the Seiko Quartz Astron, and subsequently opened the patents to the world.
-Someday all watches will be made this way.
With the delivery of this powerful statement, as a result, Seiko set the global standard, and today, most quartz watches use the system Seiko developed.
The Second Astron Revolution: GPS Solar
For Seiko, the story of quartz is still only just beginning. Thanks to Seiko's relentless drive for innovation, new possibilities in watch technology continue to open up as the new Seiko Astron, the world's first GPS solar watch, dramatically demonstrates.
Seiko has, once again, pushed back the boundaries of what a watch can deliver and has set a new world standard in electronic watchmaking.
The progress of Astron never stops. Astron has continued to pursue "the ultimate wristwatch."
7x Series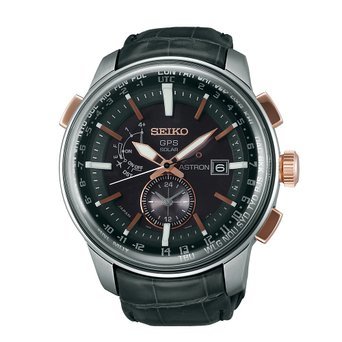 SAS038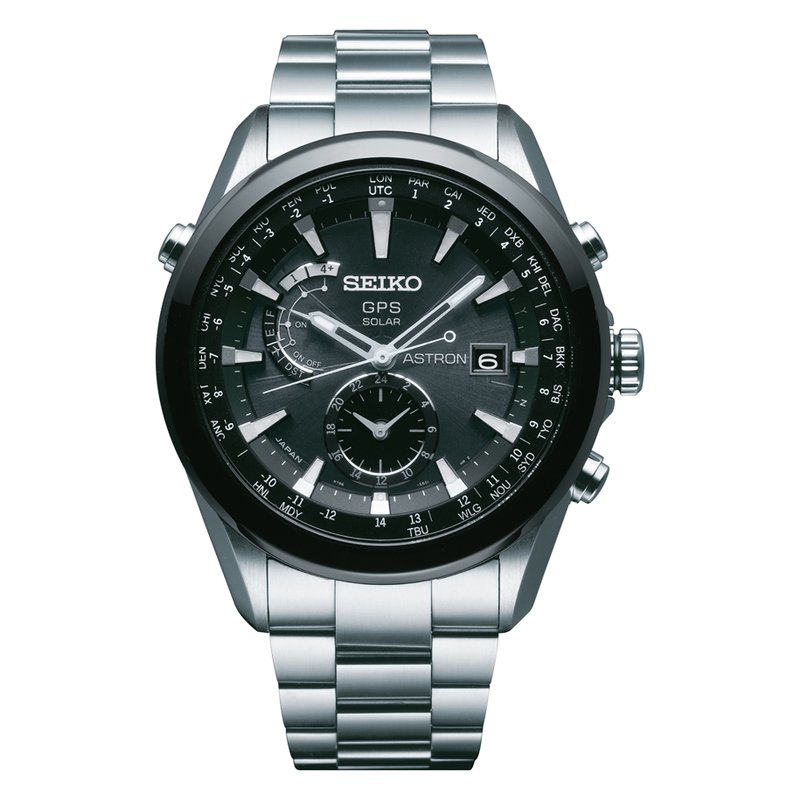 SAST003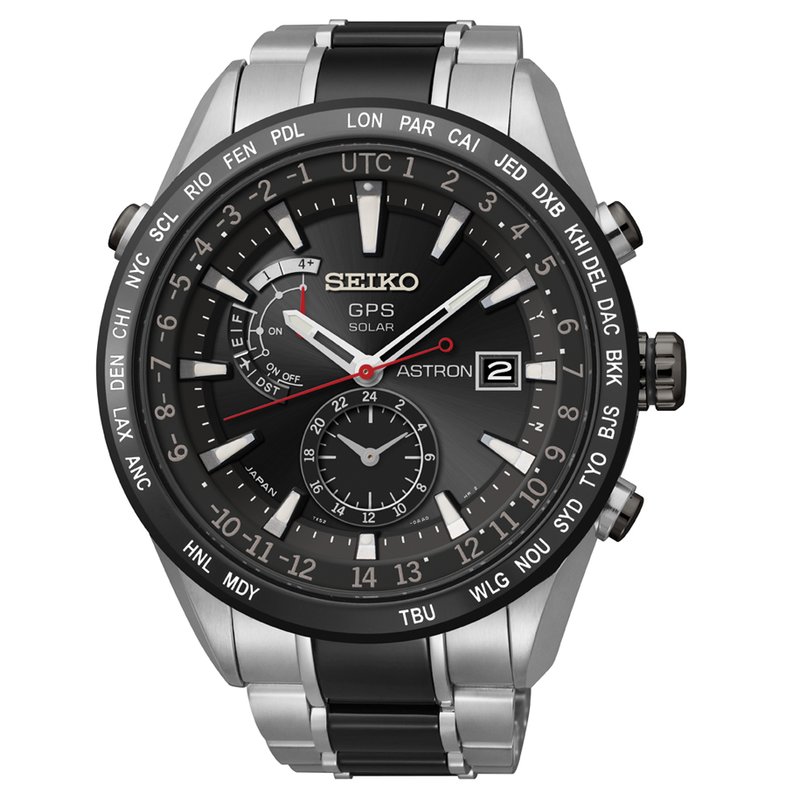 SAST015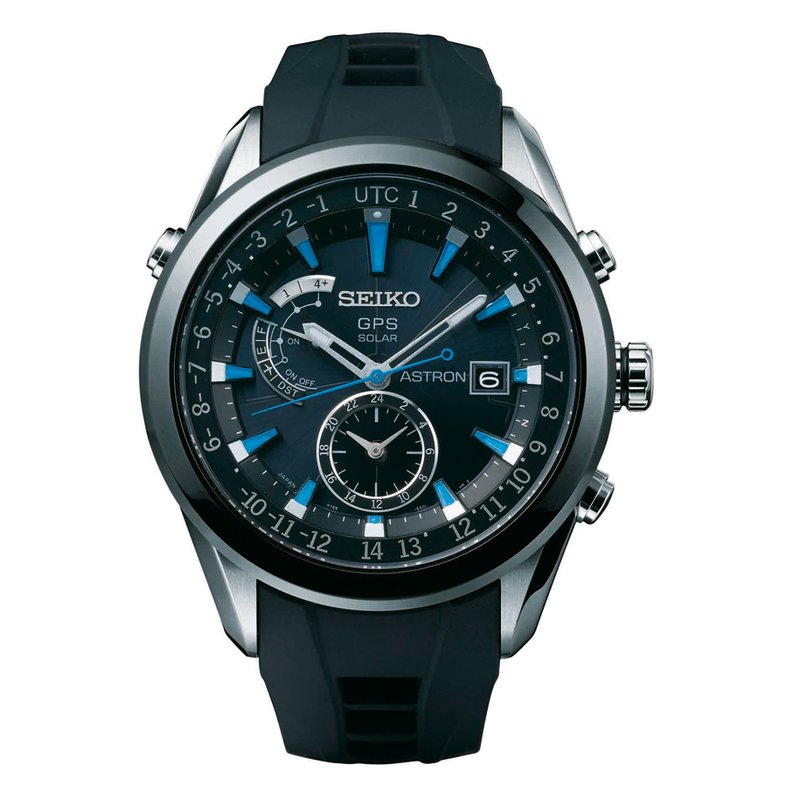 SAST009
8x Series (Chronograph)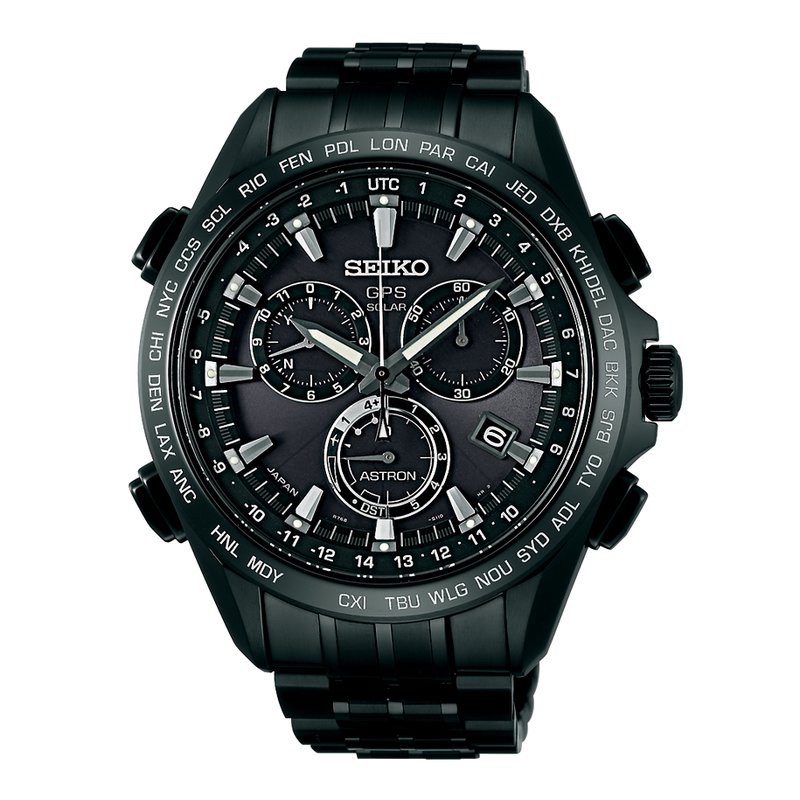 SSE009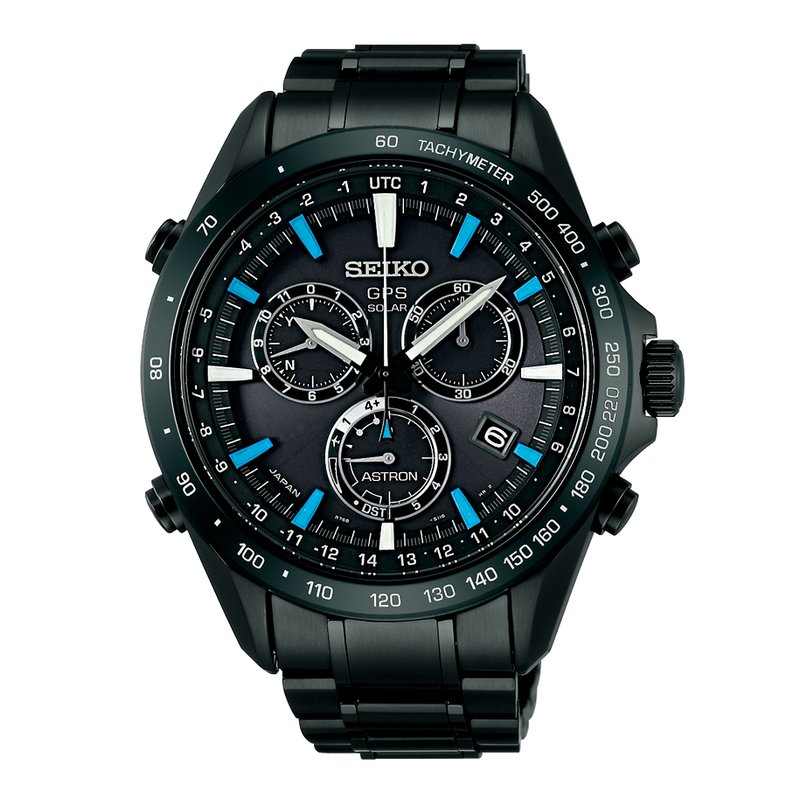 SSE013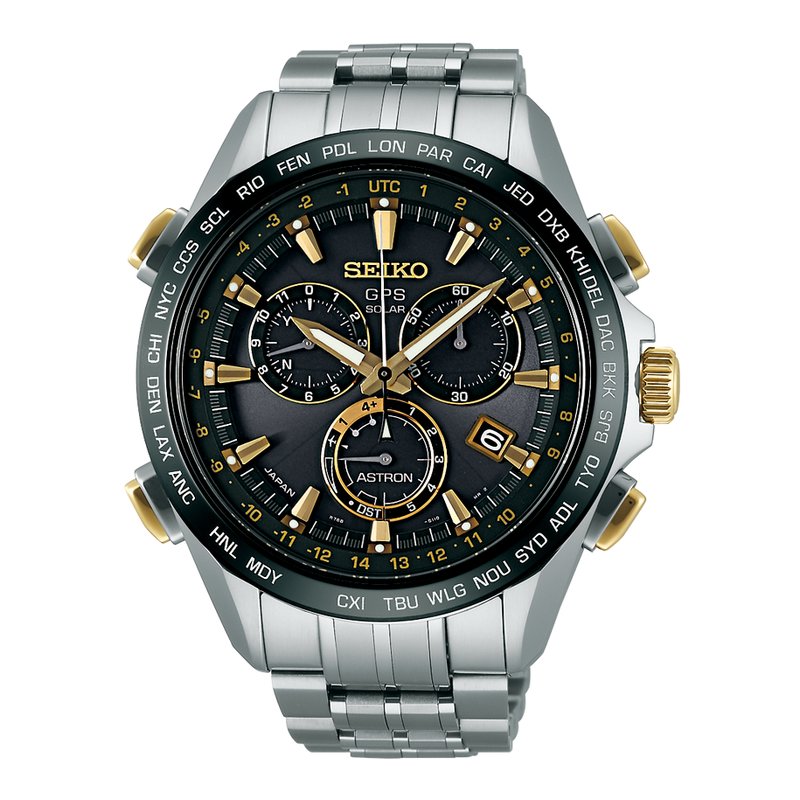 SSE007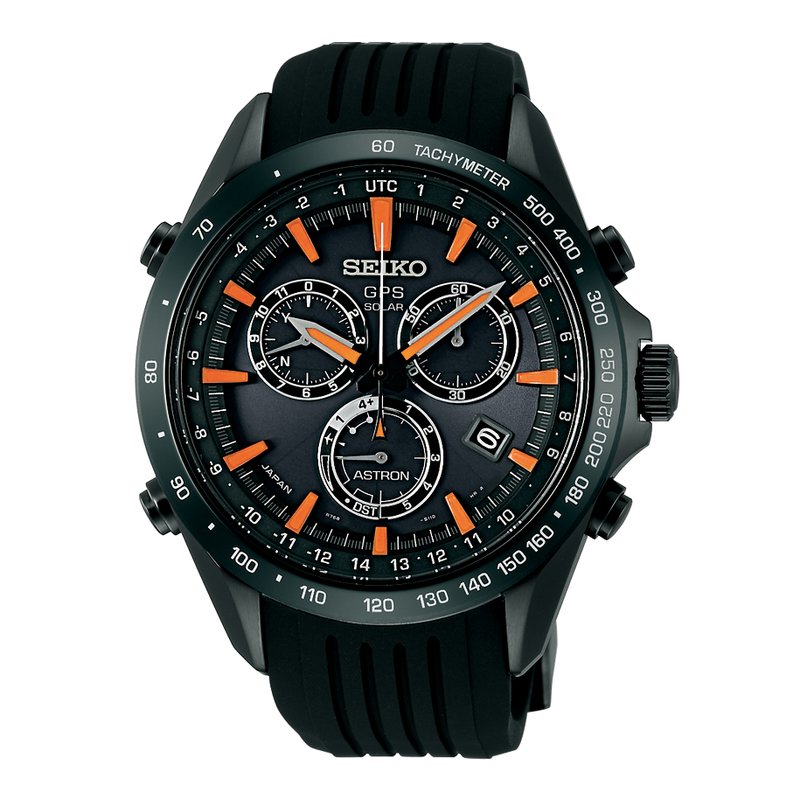 SSE017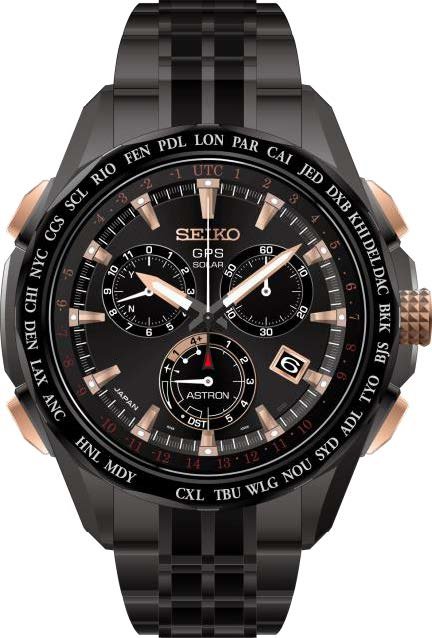 SSE019 (Limited edition 3,000 pcs)
-Case diameter: 45mm
-Titanium case with black hard coating and ceramic bezel
-Ceramic and titanium bracelet with black hard coating
-Rose gold accents (markers, hands, buttons, crown, caseback)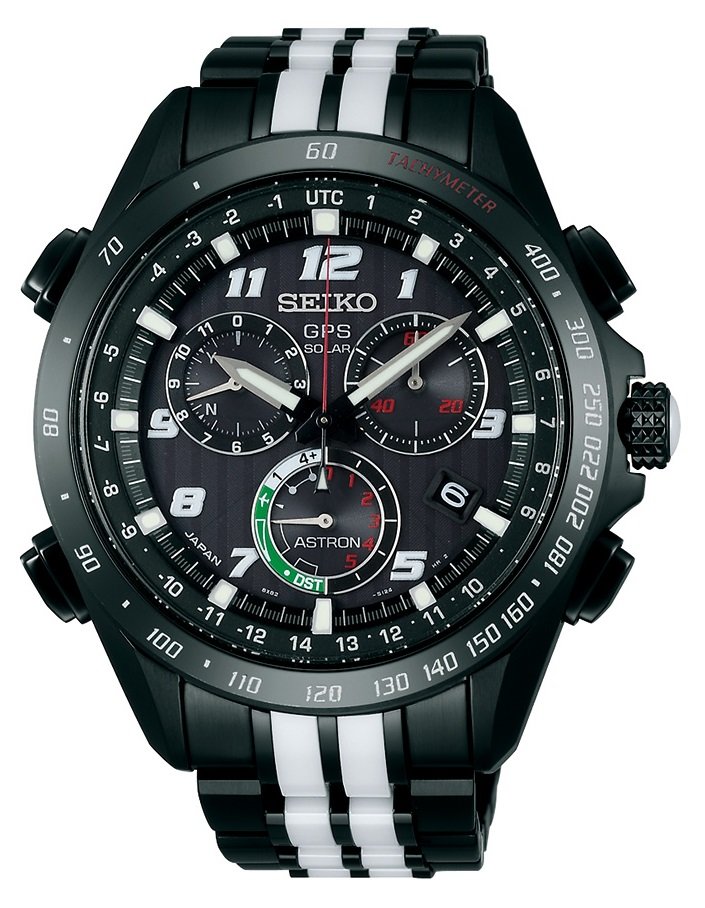 SSE037 (Giugiaro design limited edition 5,000 pcs)
-Case diameter: 44.6mm
-Titanium case with black hard coating and ceramic bezel
-Comes with two straps:
1) Black hard coated titanium bracelet with white ceramic links (as pictured)
2) Black crocodile leather strap
8x Series (Dual-time)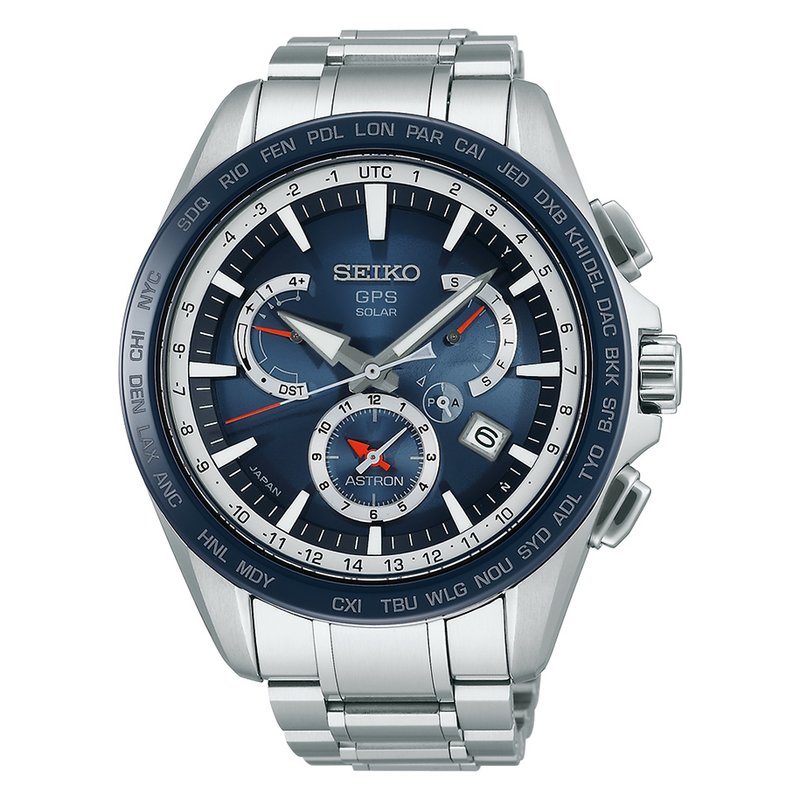 SSE053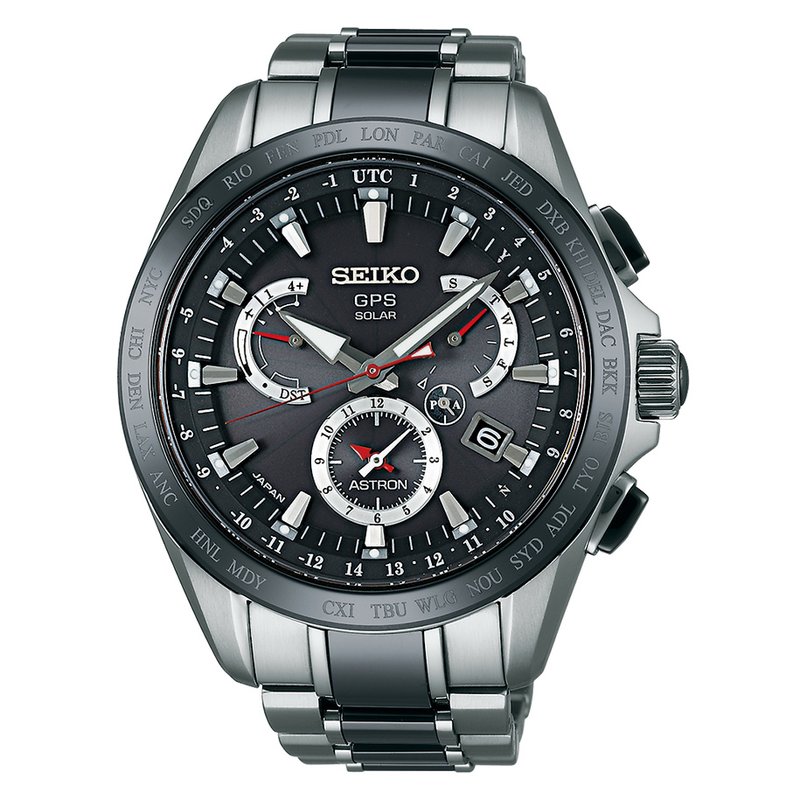 SSE041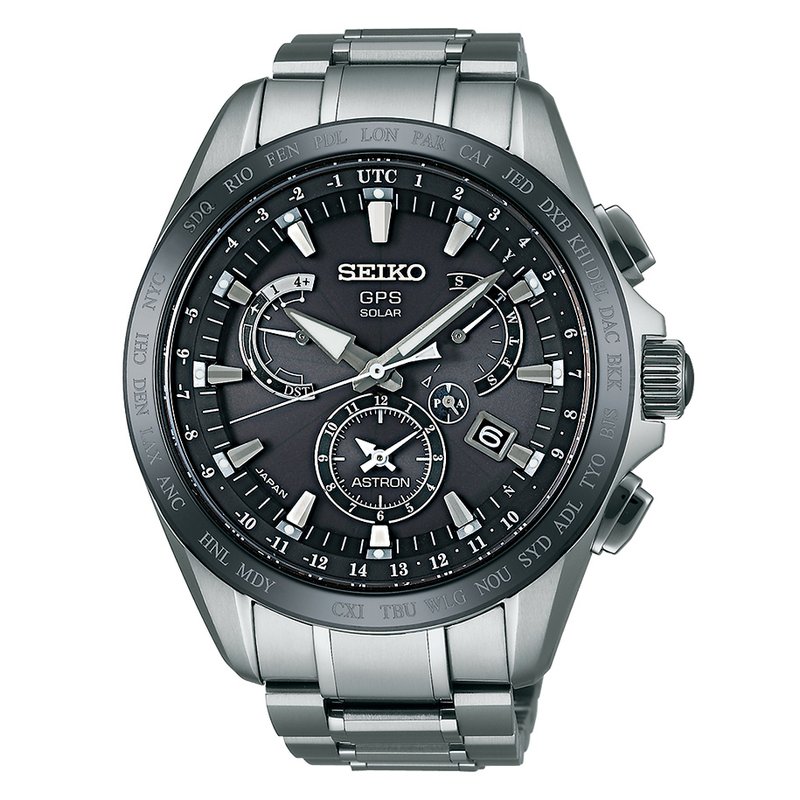 SSE045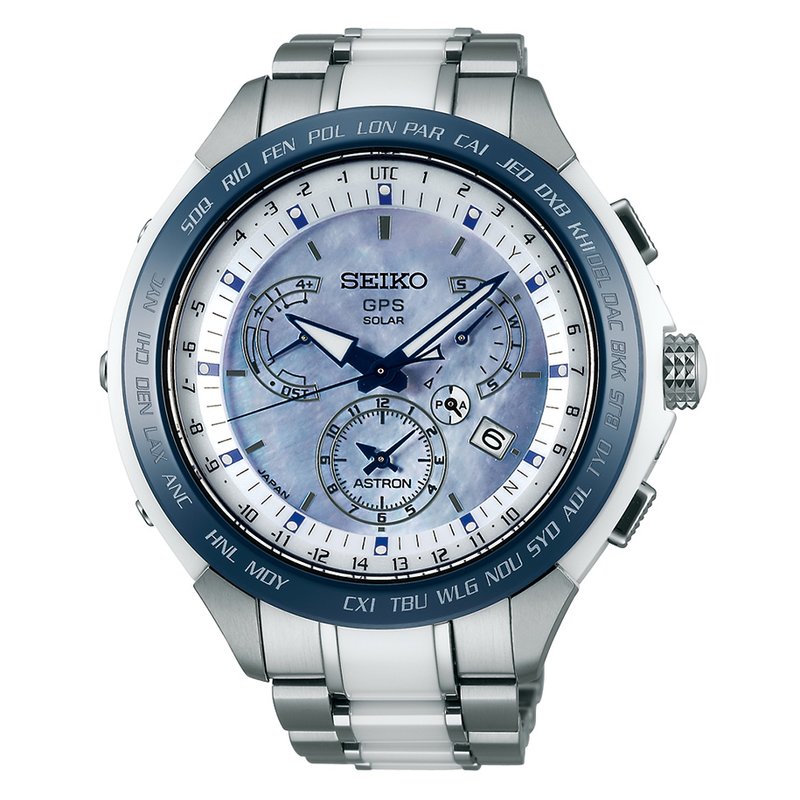 SSE039 (LIMITED EDITION -- 3,000 pieces)
-Case diameter: 48.7mm
-Mother of pearl dial
-LumiBrite hands and markers
-Super hard coated titanium case with white ceramic
-Blue ceramic bezel
-Super hard coated titanium bracelet with white ceramic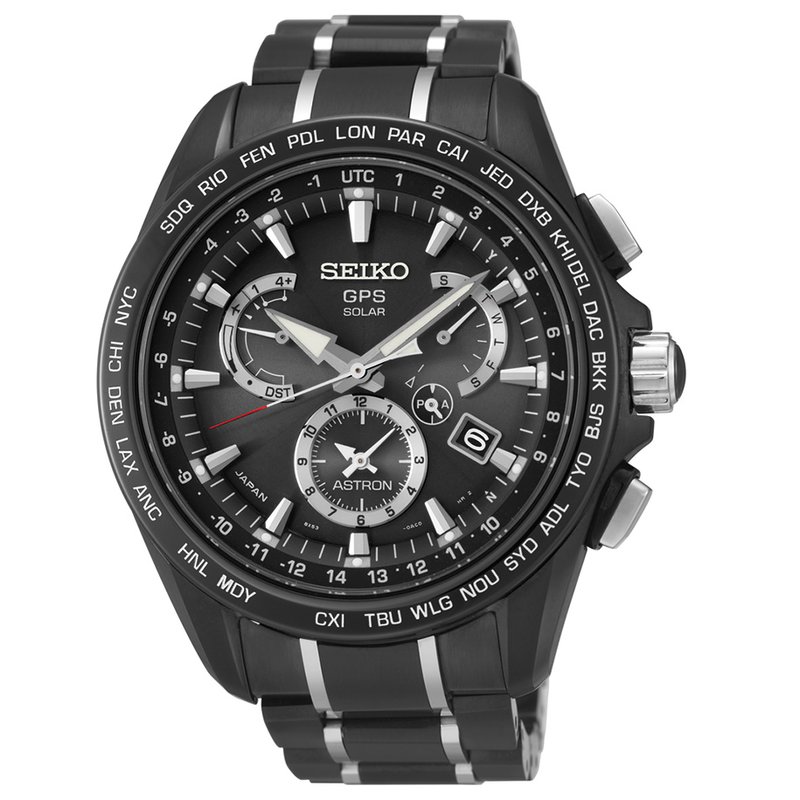 SSE065 (LIMITED EDITION -- 300 pieces)
-Case diameter: 45.0mm
-Black sunbrushed dial
-Sapphire crystal with Seiko's proprietary super clear, anti-reflective coating
-LumiBrite hands and markers
-Black ceramic bezel
-Black ion finish
-Stainless steel case and bracelet with hard coating

**Please call or email for availability and pricing!
Phone number: (650) 367-1251
Email: GTJewelers1990@gmail.com